The Spring Sound Garden was composed for Harbor Park / Bear Tree Park in historic Grand Marais, Minnesota, on the north shore of Lake Superior / Gitchee Gummi and premiered as part of the Art Along The Lake festival on Memorial Day Weekend, 2018. SPRING was the second part of my four-part Water Suite: Four Seasonal Sound Gardens, and the premiere event featured live plein air oil painting by Neil Sherman, storytelling by Staci Lola Drouillard, poetry by Pat Swanson, Jeffrey Skemp, and Tim Blighton, mosaic sculptures by Claudia Valentino, chalk murals by Tim Blighton, history tours by the Cook County Historical Society, and decorative ceramic urns by the 6th and 7th grade art students at Cook County Middle School.  Plus, a new spring song from Blue Lady and the roving Free Range Orchestra & Choir. (see below)

In 2021, to celebrate the 15-Year Anniversary of Harbor Park , we re-mounted the full 50-channel sound installation, with roving live accompaniment by the Free Range Orchestra & Choir, and a new movement score by dance artists from the Twin Cities and Grand Marais. I also released a full-length album of the Spring score – Harbor Park: A Spring Sound Garden, which combines the originally commissioned site-specific stories and poems into a new stereo mix of the installation score soundtrack. Part of the Art Along The Lake festival over Memorial Day weekend, May 29 & 30, 2021. It was so good to be able to safely gather and celebrate this special place with so many amazing collaborators and community members. Thanks to all who joined and supported us! See photo gallery below, stay tuned for video and more photos!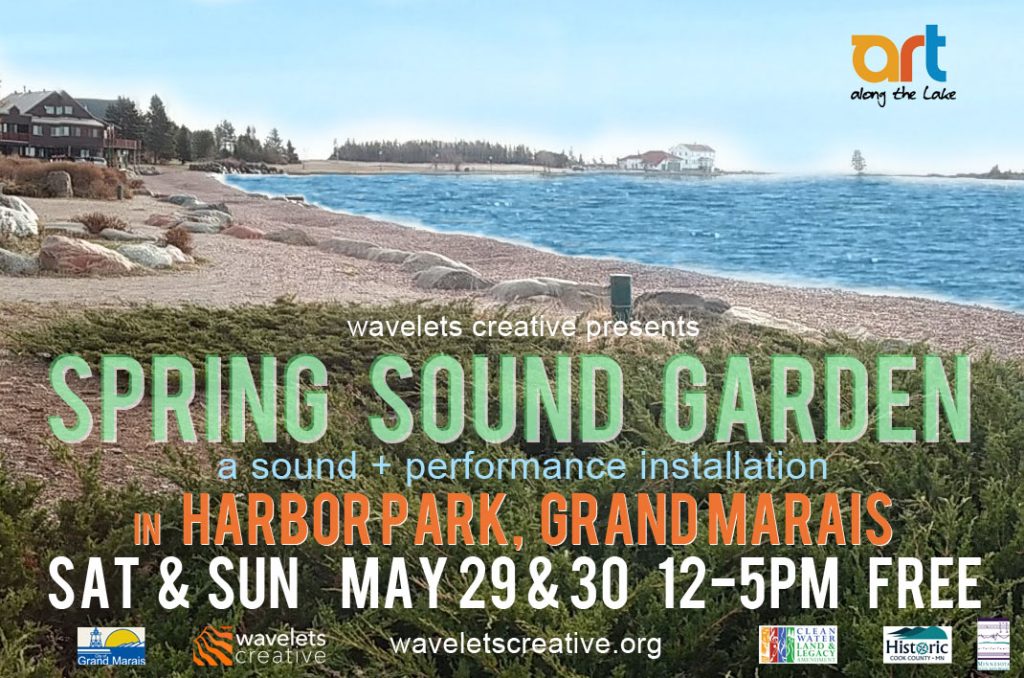 This activity is made possible by the voters of Minnesota through a grant from the Minnesota State Arts Board, thanks to a legislative appropriation from the arts and cultural heritage fund.
Details from Premiere Performance 2018:
Radio interview with composer JG Everest about his Spring Sound Garden at Harbor Park:
Photos from 2018 Premiere Event