In 2005 I created a new interactive music conversations series called Making Music, held at The Whole Music Club at the University of Minnesota and later at the Walker Art Center in Minneapolis. It was a special project because I had volunteered at The WMC in my college days at the U of MN and it was where I had gotten my start in presenting and curating larger events. It was a great way to combine my interests as historian, artist, and teacher, along with my lifelong crush on the vibrant Minnesota Music community, and my curiosity about the creative process and the lives and life choices of working artists.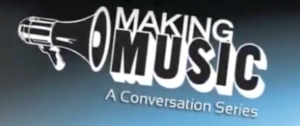 MAKING MUSIC ran from 2005-2013 and featured a wide array of world-renowned music artists, including Jason Moran, David Harrington (Kronos Quartet), Dessa, Mankwe Ndosi, David Longstreth (Dirty Projectors), P.O.S.,(Doomtree / Rhymesayers) Andrew Bird, Wendy Lewis, Dave King, Alan Sparhawk, Channy Leaneagh (POLICA, ROMA di LUNA), Morton Subotnick, Richard Devine, Lori Barbero (Babes in Toyland), Sean Daley aka Slug (Atmosphere), Ryan Olson (GAYNGS), Haley Bonar, and Dan Wilson, among many others. (scroll down for video highlights)
MAKING MUSIC PROMO VIDEOS
For the last full season of Making Music, I started making short video trailers for each episode, collaborating with the artists. it was pretty fun.
MAKING MUSIC PHOTO ARCHIVE