Wavelets Creative and Bethany Lacktorin present
MY OCEAN at Ordway Prairie, Pope County, MN August 12-14, 2016
Created by JG Everest and Bethany Lacktorin, with Jais Gossman
Directed by JG Everest
Original Score composed by JG Everest
Ben Weaver reports back from "My Ocean," a site-specific sound and performance installation at the Ordway Prairie Nature Preserve, co-created by performance artist Bethany Lacktorin and composer / director James Everest.

By Ben Weaver on MN Artists
September 6, 2016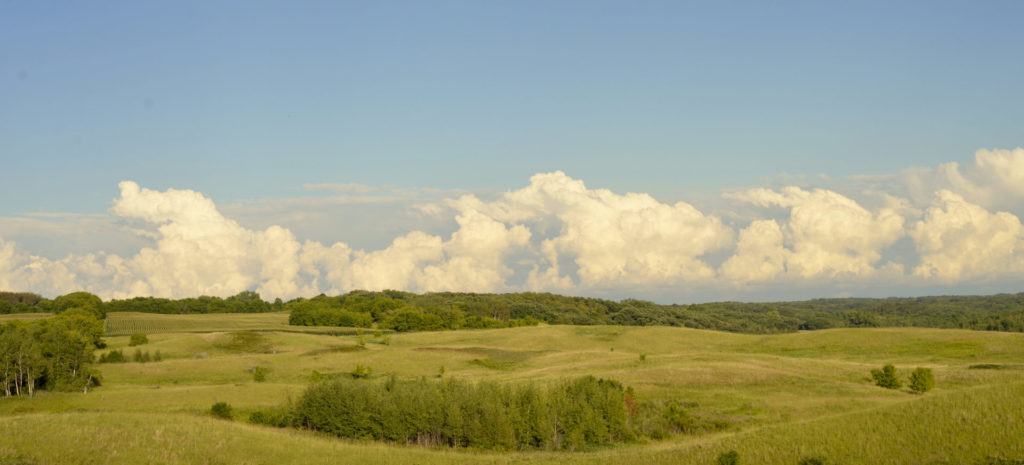 During the second weekend of August I traveled to Pope County, Minnesota, where I attended My Ocean, an outdoor, site-specific sound and performance installation at the Ordway Prairie Nature Preserve, co-created by performance artist Bethany Lacktorin and director / composer James Everest. For each performance, Lacktorin and Everest led small groups of audience members on a 1.5 mile-long walk along a carefully composed pathway of sound, song, memoir, history, and ecologically diverse habitat.
The path audiences followed began at the site of Bethany's childhood home and her great grandmother's general store, eventually crossing over Highway 104, passing through a wayside rest, the ruins of a Dakota War-era fort, and into the wilds of Ordway prairie. Audiences were accompanied throughout the walks by a soundscore made up of hidden remote speakers, pitched wind chimes, live instruments, and a roving orchestra and choir. Other cast members appeared at various moments along the way — performer Jais Gossman, Dakota poet & performer Tom Leblanc, DNR naturalist Kelsey Olson, and the My Ocean orchestra and choir (made up of members of the Lady Fire Prairie Choir and the Twin Cities Sacred Harp Singers, as well as local vocalists). James Everest walked among the audience throughout the entire performance, playing his harmonica and steel string acoustic guitar amplified through a speaker carried in his backpack.
In order to protect the natural habitats of Ordway prairie, each of the seven sold-out My Ocean performances were limited to 12 audience members, with three shows both Saturday and Sunday. I was invited to come along on one of the Saturday performances before an evening show I performed at Goat Ridge Brewery in New London to celebrate the opening of My Ocean. Below is my response to the Saturday performance I attended.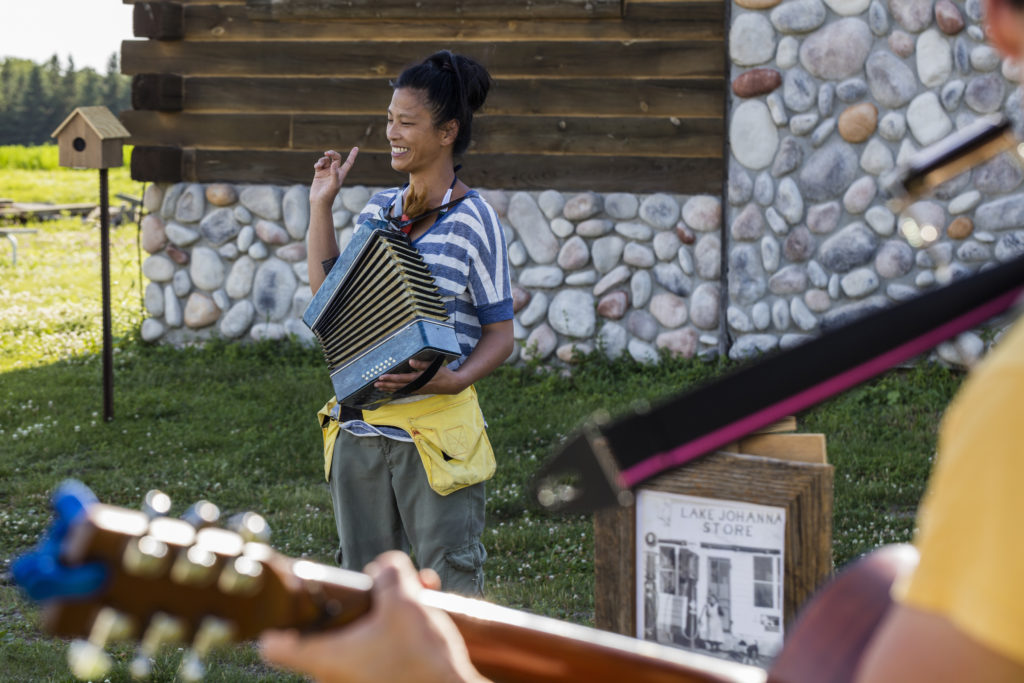 It is roughly 117 miles, almost directly west of Minneapolis. A pothole prairie. Once, it slept beneath rumbling glaciers. Before that, it was the bottom of an ocean.
Now, it is an ocean again — an ocean of grass and oak and wildflowers. Birds flicker. You can hear waves if you listen. There was a time we all understood. The wind rushing about in a red cape.
The voice of the land is peace. And balance. Our origin is not unknown. When in doubt, just listen.
We come up from the dirt and down from the sky, moving forward by the expression of water and sunlight, passing through the hands of everything living. We all share this ground.
Even if humans have forgotten, the stones that line the river remember. The bones in the fish swimming past remember. The dirt remembers. The Dakota remember. The wind doesn't forget.
I know a woman who grew up across the street from this prairie. She has hair like the surface of an ocean full of rippling moons — a middle of the night ocean. She speaks quietly as birds come and go, a constant, knowing smile tucked in the corner of her mouth.
Her name is Bethany. I'm following her through this prairie, through her ocean, with 11 other strangers. My friend James Everest is also here. Playing his guitar and harmonica as we walk. He reaches out occasionally to brush a wind chime in passing. He is helping to tell Bethany's stories. The ones we have come to hear, swimming in her ocean.
Traversing. Sinking. Floating over its contours.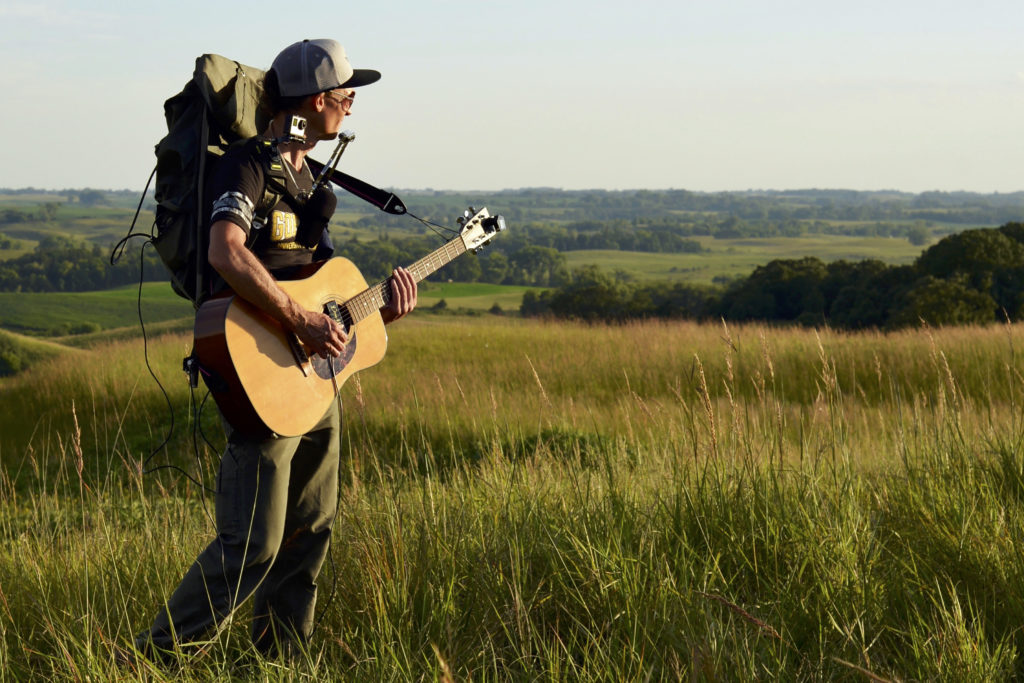 Bethany was born in South Korea. She was adopted and then raised here, in rural western Minnesota, on the ground where we are standing. When she was little, she used to tell people that this prairie was her ocean. Later, Bethany would live in Europe, across a different ocean. She returned here to say goodbye to her mother. And because there was a story in the land that she needed to tell.
We are all at risk to an increasing distance between our spirits and the land. It has been a long time since we were all close. Since we all understood.
The general store that Bethany grew up in is gone. When it was in operation, there was a single gas pump out front. Her great-grandmother ran the switchboard and made coffee for farmers and tourists. She handed it down to her great aunt. Then to her mother. The general store burned down in 2011. The chicken coop still stands. It is over here, tucked into the silver cottonwoods, near the windbreak of juniper. When a car passes, Bethany holds her breath until the sound is swallowed back up by the prairie. Then she keeps walking. Always listening.
______________________________________
My Ocean is to the institutionalized art world what the Ordway Prairie is to the large-scale farms surrounding it. Art is unguarded in nature. The prairie is not a painting; you can't hang it on four walls. It is alive.
______________________________________
Bethany's mom had a name for the wind: "Ivan Bein Loes," she called him. Bethany put on her hat and mittens. When the wind came, so did good things — that is what her mother used to say. Bethany would stand for hours, staring out into the blowing grass ocean. It was her favorite painting, she says. Because it was alive.
Is forgetting the names of trees, birds, and flowers the same as forgetting the names of those you once loved? Everything returns.
The Ordway prairie is surrounded by enormous farms that grow one of two things: corn or soybeans. For miles and miles. Corn. Soybeans. Monotonous. Monoculture. Then there is the Ordway prairie, Bethany's ocean. Full of diversity. Full of balance. Full of life.
My Ocean is a walk. Wind chimes in the juniper. Secret shadow songs coming up from the grass. Bethany strolling with an accordion. It is her dream. Her song. Her story. Her memory. Her asking. We follow along.
My Ocean is to the institutionalized art world what the Ordway prairie is to the large-scale farms surrounding it. Art is unguarded in nature. The prairie is not a painting; you can't hang it on four walls. It is alive. It has not been sprayed with pesticide — it includes the weeds. Bethany and this journey are reminding us: nothing is ironic, everything is related.
The orchestra and choir are scattered throughout the rising and falling landscape — stationary sometimes, then moving through it with us — singing at the Bergamot, the Blazing Star, all the purple. Sometimes, the roots lift up from spaces within the ground.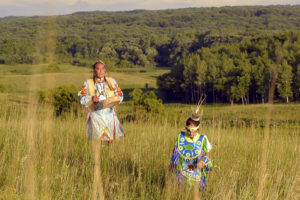 Tom LeBlanc, Bethany, and Gavino. Photo: Erin Westover / Josh Duffy
When we catch up with the wind, it rushes out from behind a tree to tell us stories. And the Dakota. Singing. Drumming. A commitment to the land, to our source of life. Prayers. Memories and visions. We cannot forget that we are in this ocean together. Our primitive totality is our being human.
Above us, there are giant animal clouds. A song of thunder begins. We are walking uphill. James plays his harmonica like bee wings. We hear his guitar through the amp carried in his backpack. The clouds open. In moments, we are soaked with rain blowing sideways. Our clothes become transparent. We are among strangers, and everyone's skin is visible, skin we don't usually want strangers to see. But here we are, unguarded on the land. We are part of it. Like buffalo, we walk into the storm.
Five minutes it rains — then stops. The choir has followed us up the hill, where they're joined by a trumpet, folk harp, bass flute, clarinet and two trombones. Bethany plays her violin. Tom plays his drum. Gavino performs his grass dance. The sun is back — catching feathers, warming the stalks of our bodies. On the hilltop, we have reached the highest point, the shallows of Bethany's ocean. Rain diamonds in the spiderwebs and tall grass. We have been guided to a place of recognition, of opening. Beyond introduction. We look out.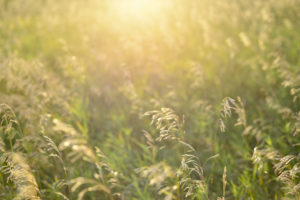 Photo: Annette Schiebout
Clouds hold onto the colors from the passing storm-light as if they don't want to let it go. We no longer see this prairie with only our eyes. We see it with our bodies. We carry a different charge within our blood and bones than at the onset.
We're standing gathered. Gazing. Watching. Listening. Soaking inside a circle of wild ocean-prairie. The land has begun to whisper. Reminding us of our pasts, the present and the future.
Slowly, we fan out, like scattered seeds. Walking. We head back towards Bethany's house. Loosely through the grass and flower, our singing feet carrying us home through the water.
Ben Weaver is a songwriter, poet, cyclist, and printer. He has released eight studio albums of music and four books of poetry. The bicycle is Ben's vehicle of choice for touring his music. His most recent bicycle powered tours include; tracing 1500 miles of the Mississippi River from Saint Paul to New Orleans and circumnavigating Lake Superior.
MY OCEAN PHOTO GALLERY
photos by Erin & Josh Duffy
Read a MY OCEAN preview article from the West Central Tribune here.